For many Brits, the difference between getting away on holiday this year and not will come down to finances. The cost of living crisis has taken its toll and the average Brit is having to dip into their savings to mitigate the 8.7% inflation rate and the skyrocketing cost of food and energy. Driving to Europe from the UK might not be as popular as opting to fly, but it's certainly cheaper.
That's why when you're deciding between driving versus flying, you should consider that GoShorty's temporary car insurance now extends to Europe. Whether you're going for a week of sunshine, or a month-long expedition, begin your holiday this year with a road trip (as opposed to boarding another plane) – and save some of your hard earned cash to spend on gelato instead.
Temporary car insurance allows you to get your fellow holiday partners all insured on the same car so you can split the driving hassle free, or even borrow someone's more road trip friendly car if they let you! Europe has never looked more easily driveable!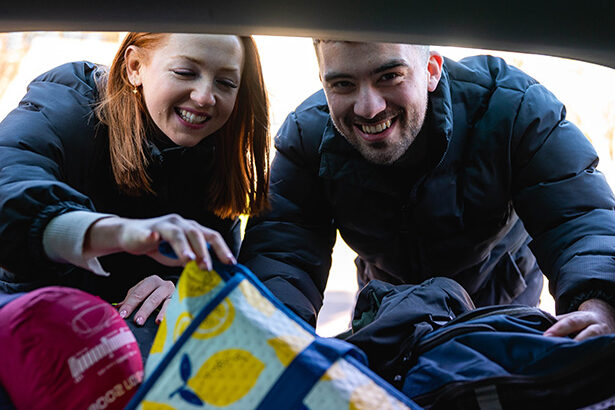 Carbon Cost of Flying Vs Driving
Whilst it's fairly common knowledge that flying takes a huge toll on the environment, not many of us actually know to what extent our summer vacationing affects the world. 
Tourism releases 5% of all energy-related carbon dioxide (CO2) global emissions, with 75% of the greenhouse gas generated from transportation.
In the UK for instance, it's estimated that CO2 emissions from commercial aviation (including both domestic and international flights) sits at around 841 kg per capita. We can look at some of our closest European neighbours to put that figure into context – Germany was estimated to be 712 kg per capita, France 137 kg per capita, and Spain 139 kg per capita. 
Air travel dominates the frequent traveller's individual contribution to climate change. And though it might be true that planes are at least able to transport large numbers of people at once, this doesn't mitigate the greenhouse gas emissions of flying versus driving. 
Not alarmed by the climate crisis? Once you take into consideration the endless queueing, flavourless plane food, and the stranger lightly snoring on your shoulder – car sharing starts to look much more attractive, whether you're environmentally-minded or not. 
Driving to Europe From the UK
Once you've made the decision to drive to Europe there are a few things to keep in mind to ensure your journey goes off without a hitch.
Find out if you'll need an International Driving Permit (IDP). Typically you won't require one in EU countries, but there are a few notable exceptions to that.
Take the correct documents, including your passport, insurance information, valid driving licence, vaccination certificates, vehicle registration certificate, motor insurance information.
Check if you'll need an emissions sticker to drive through certain cities at certain times.
Some extra equipment just in case, like a reflective jacket and warning triangle.
Beware vehicle bans in countries experiencing heat waves – some places will ban older, less efficient cars in an effort to keep air pollution at bay.
A pot of loose change to use on toll roads will save you scrabbling around and holding other travellers up.
Drive on the right. No, not that right.
Headlight converters will ensure you're not dazzling other road users – but make sure to remove them once you're back on home turf.
Display a UK sticker – unless the car you're using has the UK identifier on its number plate. (The GB one no longer counts!)
For each country you're driving through, make sure to check the speed limits, compulsory items and emission rules – and save yourself any potential headaches.
And just a couple of things to keep in mind about driving to Europe from the UK, with GoShorty – your policy must be taken out on a car journey that starts in the UK and ends in the UK, and your cover lasts for a maximum of 28 days. That is plenty of time for a great summer holiday of exploring. Lovely.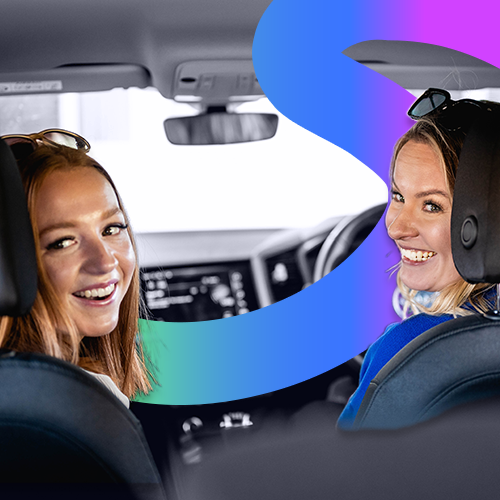 Best Ways to Explore Europe?
Nostalgic tales of backpacking across Europe might make us feel like dropping everything and thumbing down the next car to pass us by, but we'd probably recommend against this particular approach. Whilst the halcyon days of hitchhiking across the world might be behind us, the flexibility short-term car insurance endows travellers with more than makes up for it.
Whether you're planning to hit every major historic site across the EU, have a wine tasting booked at every vineyard on the continent, or feel compelled to cross every border you come across – getting from A to B in a car will always be the best way to explore Europe.
Maybe you're not mentally prepared to negotiate public transport in a foreign language. Maybe there's nothing you love more than the site of the open Autobahn. Maybe you really don't want to be beholden to luggage restrictions – yes, we do support an extensive holiday wardrobe.
Dissolve the man made boundaries of nation and traverse the continent by car with never before seen ease, aplomb and daring. Reject the arbitrary limitations we've attached to the small pleasures life holds. How many Nutella crepes is too many? Who could possibly say?
The ease of road tripping is unsurpassable – no longer is your spontaneous nature going to be beholden to the dictates of airway laws. Never again will you have to suffer the profound embarrassment of pummeling a backpack into an already-full compartment, dripping in sweat, to the amusement of the small children sitting in your reserved seat. With our temporary car insurance, you can get some of your friends insured on your car too, to share all the driving. Or you can even borrow someone's more road trip worthy car if they let you! With our quick and easy quoting process you can be insured in as little as 90 seconds – freedom beckons.
With our temporary car insurance, you can get some of your friends insured on your car too, to share all the driving. Or you can even borrow someone's more road trip worthy car if they let you! With our quick and easy quoting process you can be insured in as little as 90 seconds – freedom beckons.
Family Holidays in Europe
Listen, we're not going to tell you how to parent. But taking two under two on a packed plane to Spain requires the kind of patience we've not seen since Mother Teresa. Carrying all the junk kids require, plus your own supplies, typically requires a small lorry. If you're happy chancing your sanity on a plane or a train, so be it. But next year, when you're looking to get covered on a friend's roomy people carrier – we'll be here for you. And we won't even say we told you so.
Self drive holidays are paving the way for a long forgotten freedom – one we know to be integral to the human experience. You, too, can enjoy the spiritual enlightenment of the unhindered traveller. Cross plains, wind through verdant valleys and pootle along picturesque shores to really see the country you're in, up close and personal.
Explore Europe with ease and book your dream holiday today, with GoShorty's temporary car insurance.
Similar articles you might like