With a brand new Premier League season about to start, match-going fans who follow their teams home and away are already in full travel-planning mode. Organising transport to and from each game can be a thankless task: rail strikes, extortionate train fares, and games kicking off at unsociable hours to suit TV schedules have all combined to make it an expensive and arduous mission for many supporters.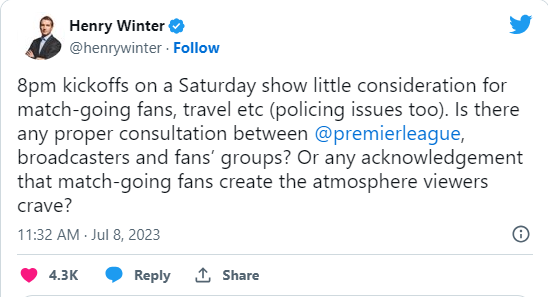 Given such inhospitality, it's no surprise that many fans swerve public transport in favour of travelling to games via car. While often a cheaper option, the cost of fuel and parking can still really stack up. And some fans have it far, far worse than others…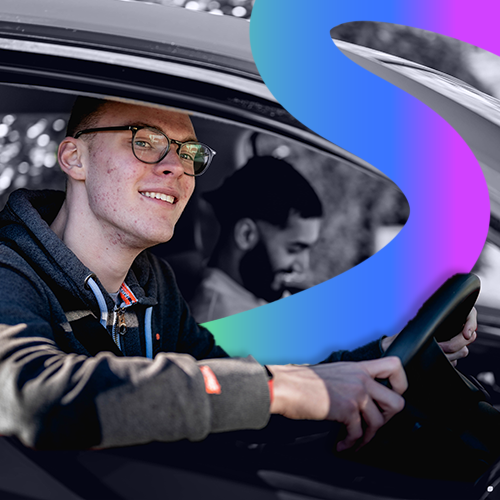 Which Premier League Fans Spend the Most On Travel?
We've been crunching the numbers to see which Premier League football fans have the furthest to travel if they were to follow their team at all 19 away games across the new season.
A few caveats (we've detailed our methodology in full at the bottom of the article):
We've used Google Maps to measure the distance between each club's stadium, using the shortest possible, toll-free route (we're all about keeping those costs down!)
We fully appreciate that fans travel from all over to follow their favourite team and are unlikely to live on the doorstep of their club's stadium (cue jokes about Manchester United and Liverpool fans having easy access to London away games!)
Car park costs are based on data from Footyparking.com, which is a super handy resource for those who struggle to park on match days
Most London-based fans are likely to travel to games in the capital via Tube, but for the sake of a fair test, we've assumed they'll be hopping in their cars!
Which Fans Have the Furthest to Drive?
To the surprise of nobody who is aware of the make-up of next season's Premier League, Newcastle United fans have drawn the shortest of short straws.
The Toon Army are accustomed to long trips. With no relatively short hops to Sunderland or Middlesbrough on the agenda, Newcastle fans face an average journey of 232 miles, covering an eye-watering 4,410 miles in total. This includes a frankly brutal 720-mile round trip to watch their team play AFC Bournemouth.
Speaking of whom, Bournemouth fans also have it tough. Based on the South Coast, they must travel 3,494 miles to watch all of their team's away games – an average journey length of nearly 184 miles. The bad news doesn't stop there for fans of 'The Cherries'.
We also looked at average fuel price data for all of the regions in which Premier League clubs are based. Compared to the national average of 143.9p for a litre of unleaded petrol, the average in Dorset is 146.38p per litre (as of July 2023) – the highest of all 20 clubs in the league. For context, the price in Tyne and Wear is 142.53p – small mercies for the travel-weary followers of Newcastle United.
Manchester-based supporters benefit from the cheapest fuel prices on average, with a litre of unleaded costing 139.9p.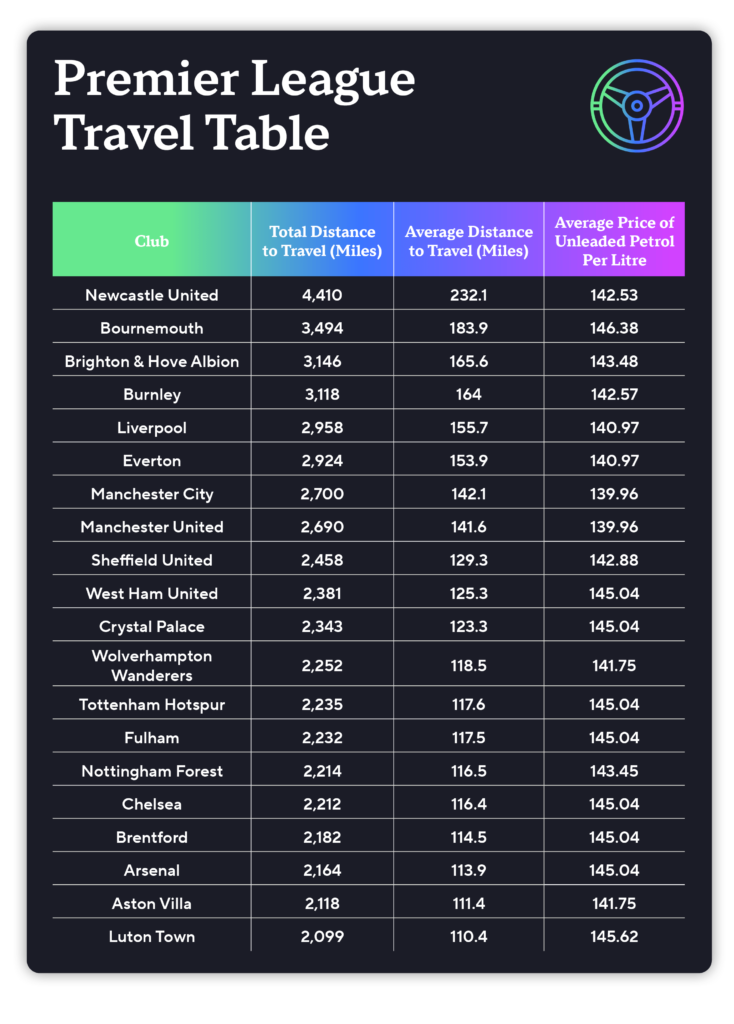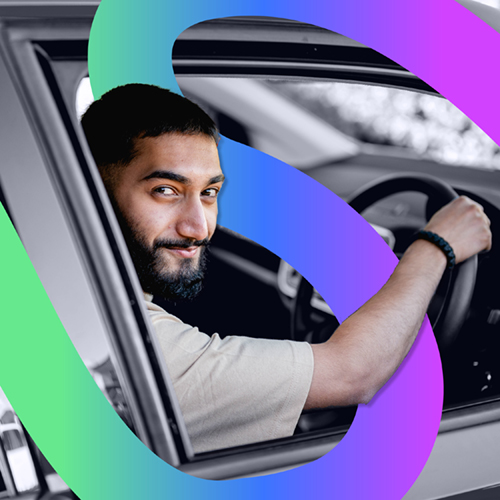 Which Fans Will Cover the Shortest Distance?
According to our calculations, supporters of newly-promoted Luton Town have the best deal next season. Benefiting from the significant number of London-based clubs in the league, they only need to cover 2,098 miles following their team – an average trip length of just over 110 miles.
They just pip Aston Villa to the post, who given their location slap bang in the centre of England, can usually be expected to benefit from shorter travel distances.
As mentioned, with seven London-based clubs playing in the top level of English football, fans in the capital benefit from a multitude of local derbies and short hops across the capital. This is offset slightly by beefy trips to Burnley, so swings and roundabouts!
The Cost of Parking
While it's filling the tank that undoubtedly makes the biggest dent in the coffers of fans who drive to games, parking costs can rack up too.
We looked at the documented parking options within a three-mile radius of each club's stadium to find out which clubs offer the cheapest and most expensive parking rates on average.
Visitors to Luton can revel in the fact that average parking costs in the vicinity of Kenilworth Road are by far the cheapest, starting from just £1.55. However, being the smallest stadium in the division – with a capacity of just 10,356 – it's understandable that parking options are limited, with only eight car parks in the area.
On the flipside, car parking around the swanky Tottenham Hotspur Stadium may be in greater supply (23 car parks within three miles), but the cost of parking up for 90 minutes is the highest in the Premier League, with average starting costs surpassing the £10 mark. Carpooling suddenly becomes all the more attractive!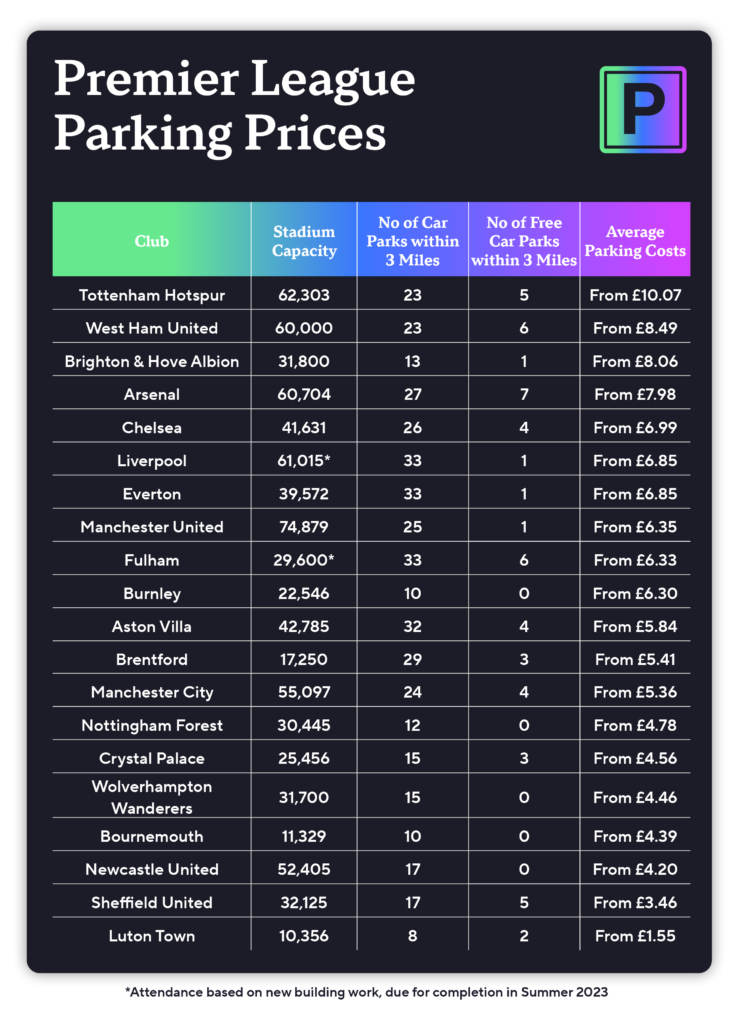 More Fans in Fewer Cars!
Being a die-hard football supporter can be a costly pastime, and as we've demonstrated, following your team around the country is not always straightforward. 
At GoShorty, our mantra is to get more people into fewer cars, and this very much extends to motorists who are travelling to sporting events. You can mitigate some of the cost of driving to the football by sharing the journey with fellow fans. Car sharing is an increasingly appealing option, and one of the questions we're most commonly asked is: "can someone else drive my car?"
By offering temporary car insurance policies in a matter of seconds online, we make it easy for people to borrow someone else's car, or share the driving responsibilities during a road trip – all safe in the knowledge that you're legally covered to do so. For the average football fan, a daily car insurance policy will do the job, as this will cover you there and back with no fuss. 
If you happen to be a Newcastle, Bournemouth or Brighton fan, chances are you'll be making a weekend out of some of these trips! In which case, our weekend car insurance policies are a superb option over the course of the 2023/24 Premier League campaign.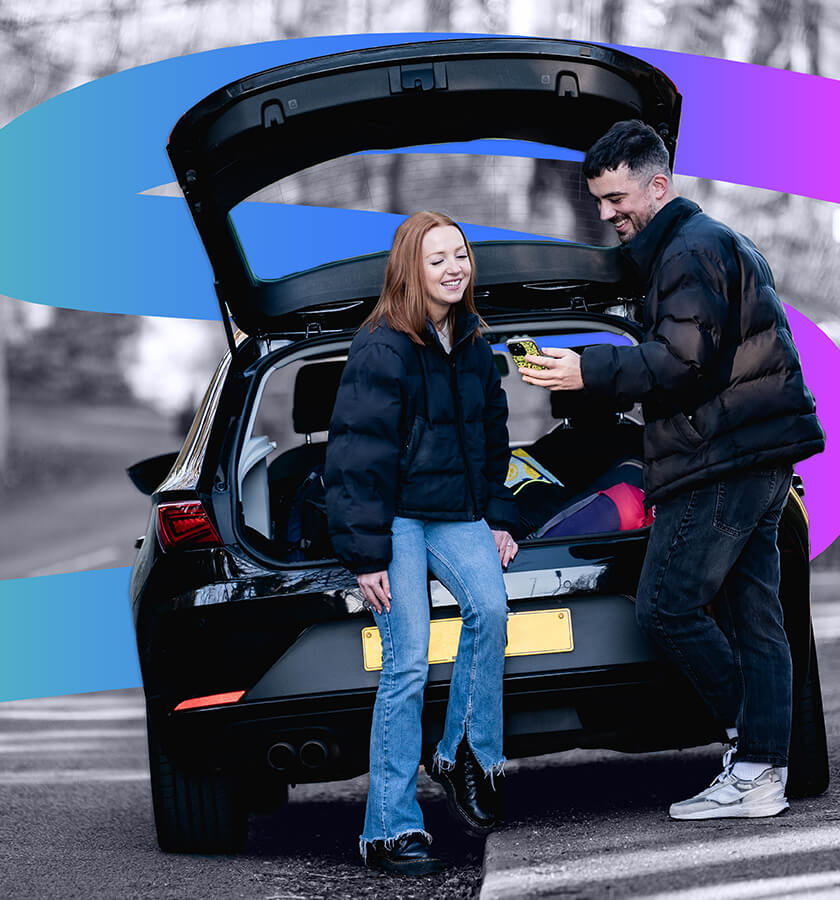 Adding context to some of the findings from GoShorty's 'Premier League Car Share' research, our Director of Marketing (who also happens to be a loyal Newcastle United supporter) Graeme Stoker commented:
"Kick-off times are constantly being moved at short notice, which makes it a nightmare for many fans to plan their travel to and from games. With many matches being moved to Friday, Saturday or Monday nights, the trains simply aren't an option.
"We want to see more fans getting into the habit of sharing lifts to sporting events. Not only can this significantly lower the cost of travelling, it has a positive impact on the environment too. Our short-term car insurance options are tailor-made to allow people to drive different cars legally. The quick and easy nature of securing a policy online means you can swap drivers more regularly, which is extremely handy when you're completing a 700-mile round trip from Newcastle to Brighton!"
You can check out all of GoShorty's short-term car insurance options online.
---
Travel Distances
We analysed data from Google Maps to plot the shortest road distances between each Premier League football club, ensuring that all routes were toll-free. We calculated the total distance to be travelled by each club's fans throughout the new season and then worked out the average distance of a typical trip.
In the interest of fairness, we used the distances between each team's stadium. In the case of Liverpool and Everton – whose grounds are barely a mile apart – the total distances are slightly different based on the direction of other stadia to Anfield and Goodison Park, hence why it appears that Everton supporters have marginally less distance to cover.
The distances were calculated between July 9th and 13th 2023.
---
Car Park Costs
We used data from Footyparking.com to find car parks within three miles of each football ground. This was based on data from the 2022/23 season and the database is being updated all the time, so new car-parking options may be added. We sourced our data between July 9th and 13th 2023.
We created a list of each car park and calculated an average starting cost, so prices "start from £X". For extra context around parking viability at each club, we used data from Football Ground Guide to determine the capacity of each team's stadium.
---
Fuel Costs
Knowing that unleaded petrol vehicles are the most popular in the UK, we opted to use this type of fuel as our barometer for average costs across the UK. We sourced our information from Fleet News, which provides a county/region-wide breakdown of average unleaded petrol costs for July 2023.
Our full dataset is available upon request via Google Sheets.