Exploring the most popular car DIY repairs and modifications 
For many people, cars are much more than a means of getting from A to B. Often, motorists will add their own personal touches to their vehicles giving them a unique and personal feel particular to their owner. 
From tinted windows to spoilers and flashy rims, there are many modifications you can make to your car. Some of these require the expertise of a professional mechanic, though there is a growing trend for DIY car mods and maintenance which sees drivers taking their vehicle's condition and specs into their own hands.
However, drivers must be careful that any modifications they make to their car don't invalidate their insurance, which is true even for users of temporary car insurance. 
With this in mind, we wanted to discover the most popular types of car DIY. We're also going to highlight how social media plays a part in promoting different car mods and making the world of DIY car maintenance more accessible to the average car owner.
Car DIY Trends
Here we can see the most searched for types of car mods and maintenance of the past year, revealing the alterations that most drivers want to make to their own vehicles.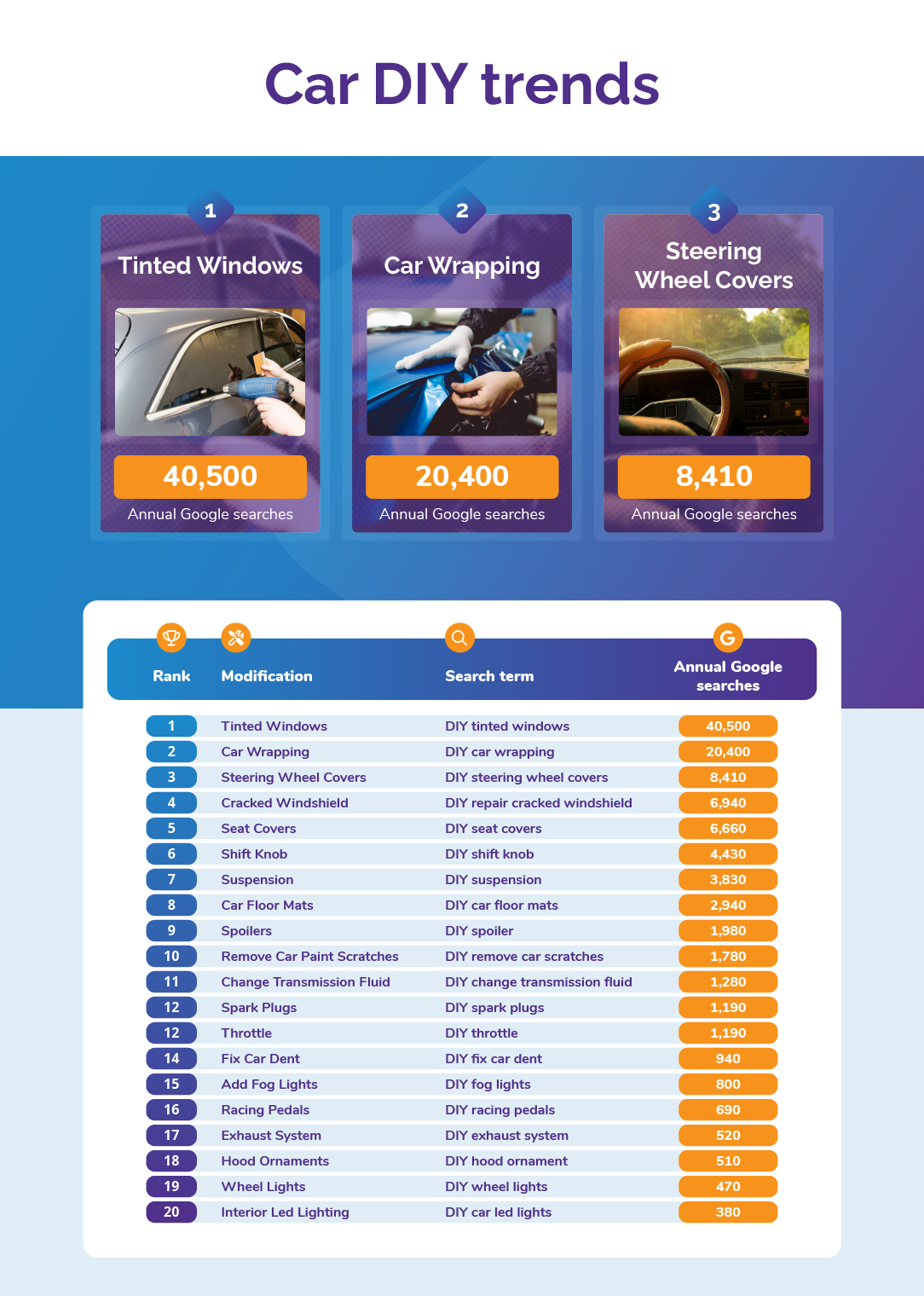 1. Tinted windows – Google Searches: 40,500
Tinted windows are a classic way of making your car stand out while also adding privacy to your vehicle. By choosing to install tinted windows, you can shield your passengers from view, much like celebrities and VIPs hiding from the press, adding an air of luxury and importance to your car. Tinted windows can also be a striking design choice, with a whole range of colours to choose from. 
 2. Car Wrapping – Google Searches: 40,500           
Car wrapping refers to the application of vinyl wraps to your vehicle's exterior, allowing vehicle owners to customise their car's appearance without the need for a costly new paint job. These wrappings are available in an infinite number of styles, allowing for total customisation, and can be changed as frequently as you like. 
3. Steering Wheel Covers – Google Searches: 8,410
Steering wheel covers are a fun, low-cost way of personalising your car's interior. As a driver, your steering wheel is one of the main points of contact with your car and is something you connect with visually as well as physically. It, therefore, makes sense to make the design as true to your preferences as possible. It's not just the appearance that you can customise, as you can choose from many different materials to make the steering wheel feel comfortable and secure in your hands.
Car DIY Brands
Having looked at the specific DIY alterations that drivers are looking to make to their vehicles, we were also curious to see which car brands are most popular for DIY modification. Again, using search data from the last twelve months, we have found the most searched for car brands when it comes to DIY improvements
1. BMW – DIY Searches: 120,840
BMW is the car brand with the most DIY searches, reaching 120,840 searches for the past year. Popular for their high performance and reliability, as well as their distinctive and imposing looks, BMWs are a popular choice for keen car enthusiasts, which could explain why they receive so much attention for modifications and DIY alterations.
2. Tesla – DIY Searches: 110,750
Tesla is the second most popular car brand for DIY searches, with 110,750 in the last year. Teslas have become a status symbol for people who want to flaunt both their wealth and their green credentials at the same time.
3. Jeep – DIY Searches: 62,530
Jeep takes third place with 62,530 DIY searches in the last twelve months. These large 4x4s are descended from military jeeps, so are both highly durable and very versatile, making them ideal for modifications and DIY maintenance.
TikTok Car Influencers
Social media is now a hugely important factor in the creation and spread of popular trends and ideas. This is no different when it comes to cars, so we've taken the time to identify some of the biggest car influencers on TikTok. These TikTok stars have the power to influence thousands of people at the touch of a button and are undoubtedly at least partly responsible for changing attitudes towards cars and DIY modifications.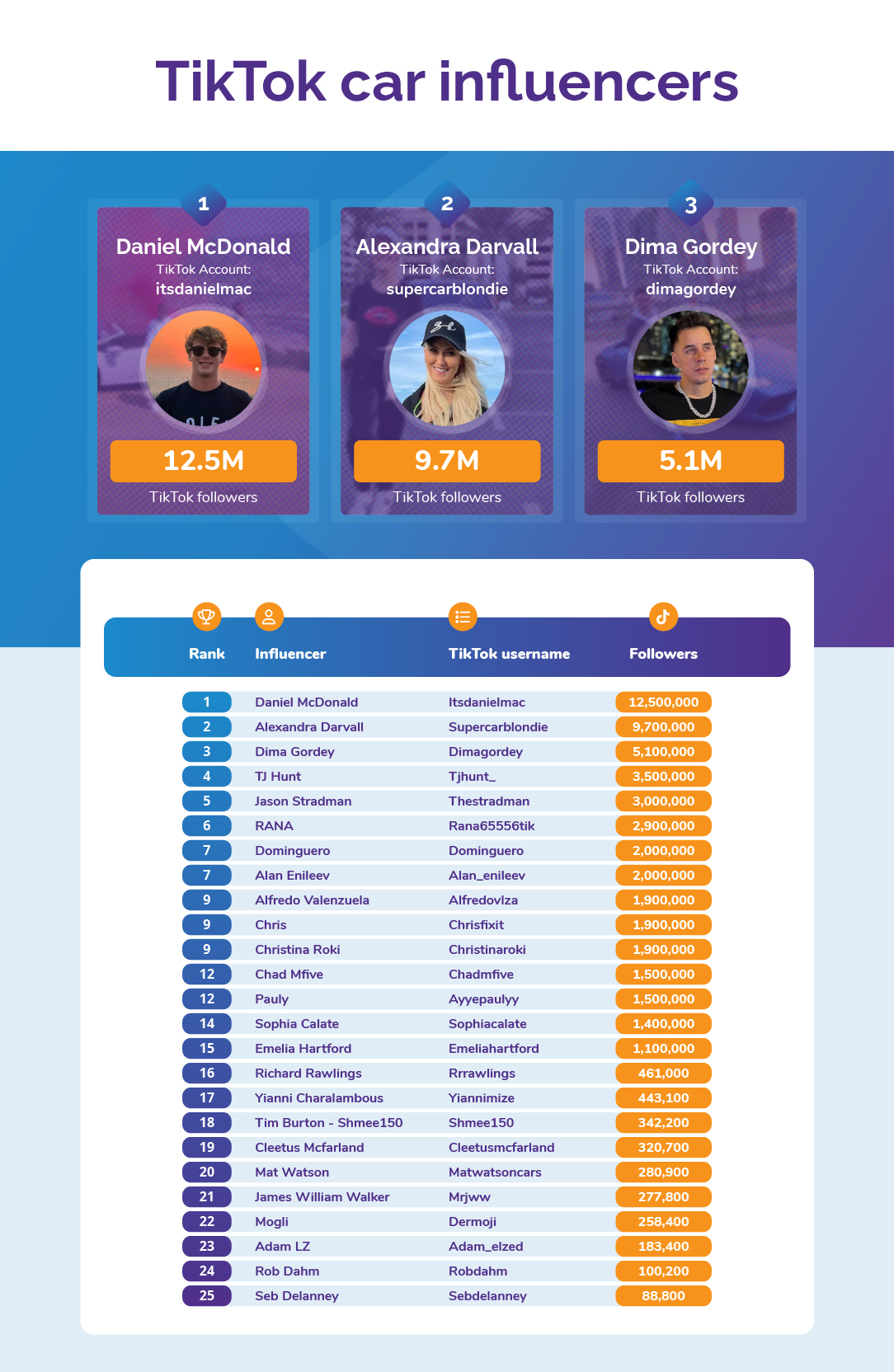 1. Daniel McDonald – Followers: 12.5 Million
TikTok Account: itsdanielmac
Daniel McDonald has become an internet sensation with his unique style of content in which he asks the drivers of supercars what they do for a living. His channel features an endless stream of beautiful cars and offers an interesting insight into how the owners actually earn enough money to afford their luxury vehicles. 
2. Alexandra Darvall – Followers: 9.7 Million
TikTok Account: supercarblondie 
Alexandra Darvall is the second most popular car TikTok influencer with an impressive 9.7 million followers. The Australian petrol head's channel is filled with everything car related from supercars to deep clean videos and even monster trucks. This varied and interesting content has earned her a loyal following that keeps coming back for more.
3. Dima Gordey – Followers: 5.1 Million
TikTok Account: dimagordey
Dima Gordey's channel is a mix of lifestyle, comedy and car content, giving him a much broader appeal than some of the more specialised car channels. Don't be fooled though, there is still a large amount of car-related content to be found here, and his videos can be very entertaining. 
TikTok Car Mod Tags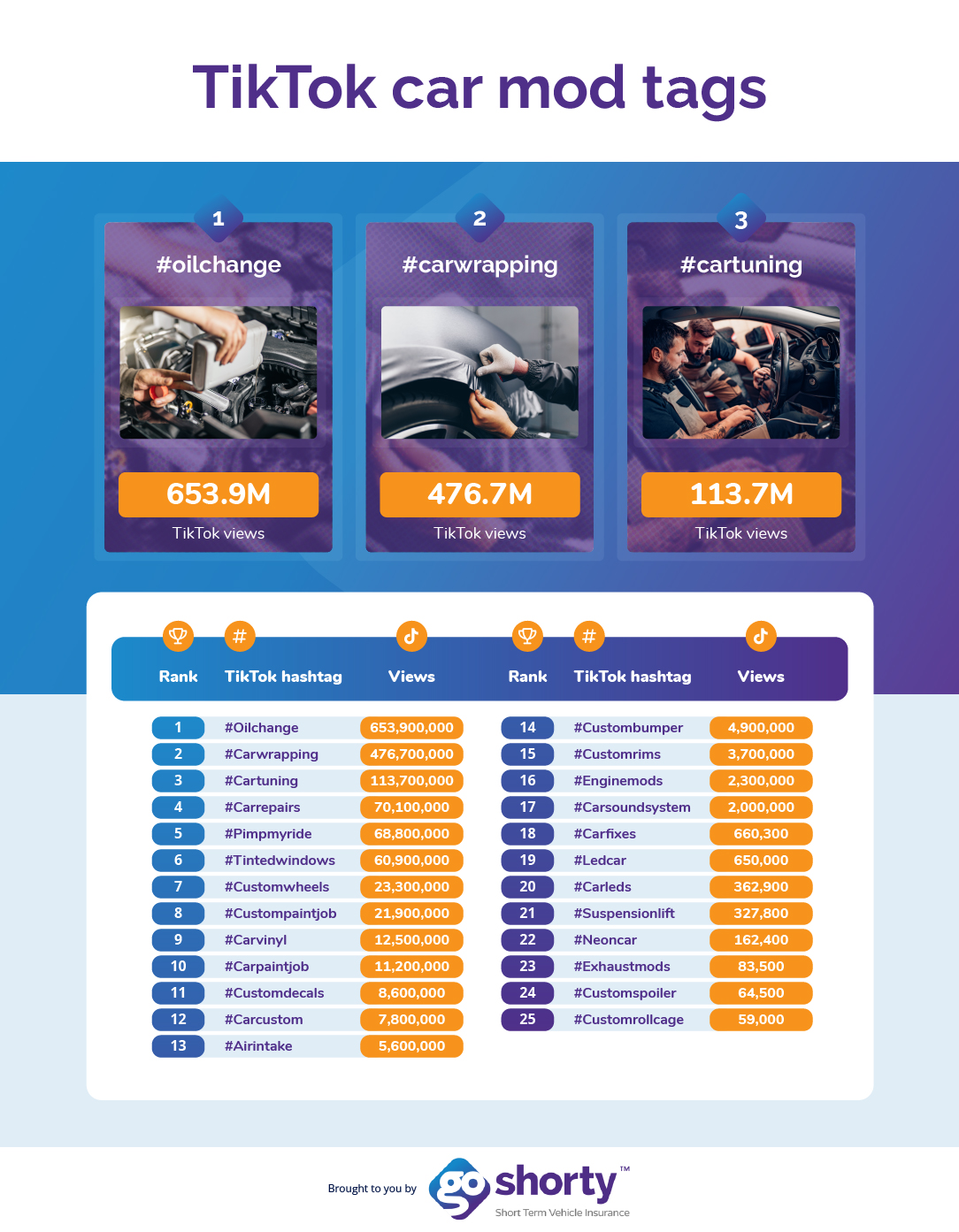 We've also explored which car DIY tags on TikTok have been viewed the most times. This reveals the types of car DIY projects that TikTok users are most interested in, setting trends for wider communities of car enthusiasts.
1. #oilchange – TikTok Views: 653.9 Million
Performing an oil change is a simple process that many drivers choose to do themselves rather than paying someone in a garage to do it for them. The incredibly high number of views for this tag shows just how many people are keen to learn to do it themselves.
2. #carwrapping – TikTok Views: 476.7 Million
Car wrapping is not just a great way of switching up the aesthetic of your vehicle, but it is an extremely satisfying process to watch. There are a huge number of videos on TikTok and elsewhere showing these vinyl wraps being applied to vehicles, completely transforming their appearance in a matter of seconds.
3. #cartuning – TikTok Views: 113.7 Million
Tuning a car can mean many things, but usually refers to a series of minor tweaks and changes to get the most out of what is already there. This could involve cleaning various components, replacing small parts within the engine or inner workings, or more substantial changes to boost performance. The most common aspects of a car to tune are the engine and steering, making the vehicle more powerful and easy to manoeuvre.
Methodology
We wanted to identify the most popular car DIY trends out there. To do this we used Google Keyword Planner to find out how many searches were made for a variety of car DIY keywords. We also collected DIY search data for different brands of cars, identifying which brands are the most popular for DIY modification and maintenance.
Additionally, we used data from TikTok to reveal the most popular car-related TikTok influencers, as well as the most-viewed TikTok tags relating to car DIY. This social media data helps to paint a picture of where many people may be getting their inspiration from for the modifications they make to their vehicles, as well as which mods people need the most guidance with.