As short-term car insurance providers, we hear plenty about how British drivers behave towards each other, and (spoiler) it's not always pretty. With this in mind, we commissioned an official survey of 2,000 drivers to find out what we think of each other.
Ever heard someone curse all BMW drivers and wonder why? Witnessed an aggressive honking? Analysing the survey findings, GoShorty have dissected some of the most interesting results about Britain's rudest drivers below…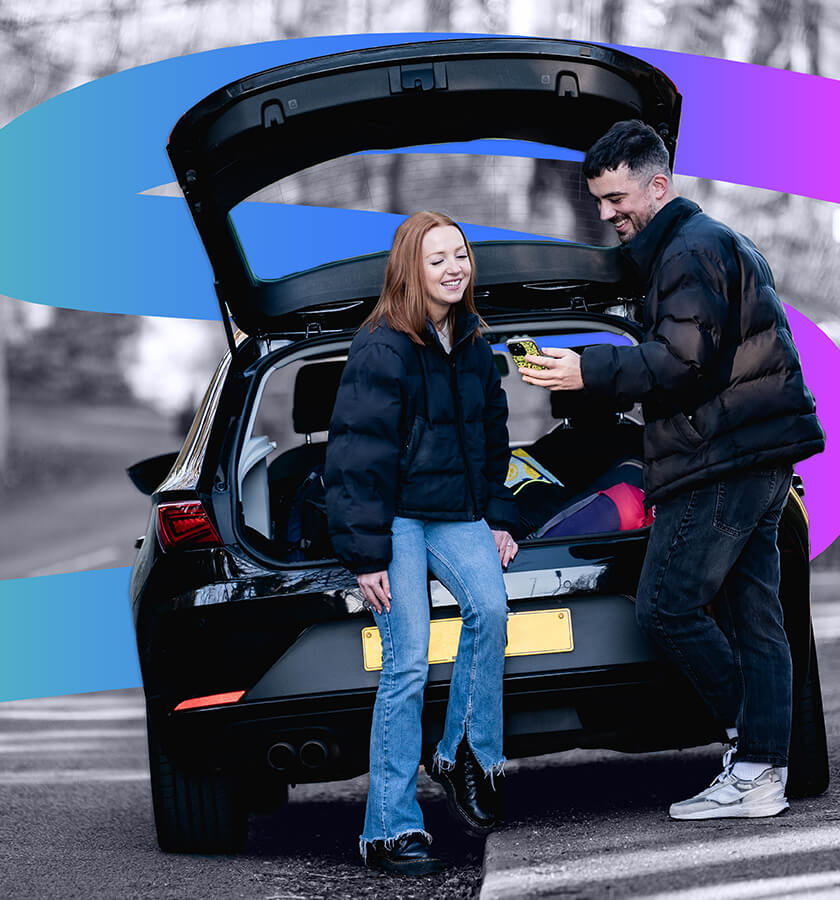 Who Are the Rudest Drivers On the Roads?
According to our latest nationwide survey, BMW (50 percent), Audi (28 percent) and Mercedes Benz (17 percent) drivers have been voted the most impolite motorists on Britain's roads.
Land Rover (15 percent), Porsche (11 percent), Tesla (9 percent), Ford (7 percent) and Jaguar (6 percent) drivers are also seen as amongst the least courteous, according to 2,000 British drivers.
Rude driving behaviours are what many of us expect from BMW drivers, with those surveyed accrediting them with being regular displayers of bad behaviours on the roads.
The Rudest Behaviours Whilst Driving
BMW drivers are seen as the most likely to hog the middle lane (38 percent), brake suddenly to scare the person behind them (34 percent), overtake and go slowly (25 percent), and not merge until the very last minute (35 percent).
If that wasn't rude enough, they are also considered the drivers who would honk at someone for driving too slowly (37 percent), pip the horn as soon as the traffic lights change to green (36 percent), give the middle finger (38 percent), and not pull over for emergency vehicles (31 percent).
According to our data, when it comes to the nation's biggest driving pet peeves – braking suddenly to scare the person behind you (51 percent), tailgating (50 percent), not pulling over for emergency vehicles (44 percent) and overtaking then going slowly (41 percent) top the list. So those rude BMW drivers really are grinding everyone else on the road's gears.
Four in ten (40 percent) hate to see people throw rubbish out of their window, while 39 percent despise those who give the middle finger.
Middle lane hogging (38 percent), parking in a disabled bay when you're not disabled (37 percent), driving to the front of a merge lane and then pushing in (37 percent) and not merging in until the last minute (35 percent) are also considered unpleasant acts when behind the wheel.
---
How Big a Problem Are Rude Drivers On the Roads?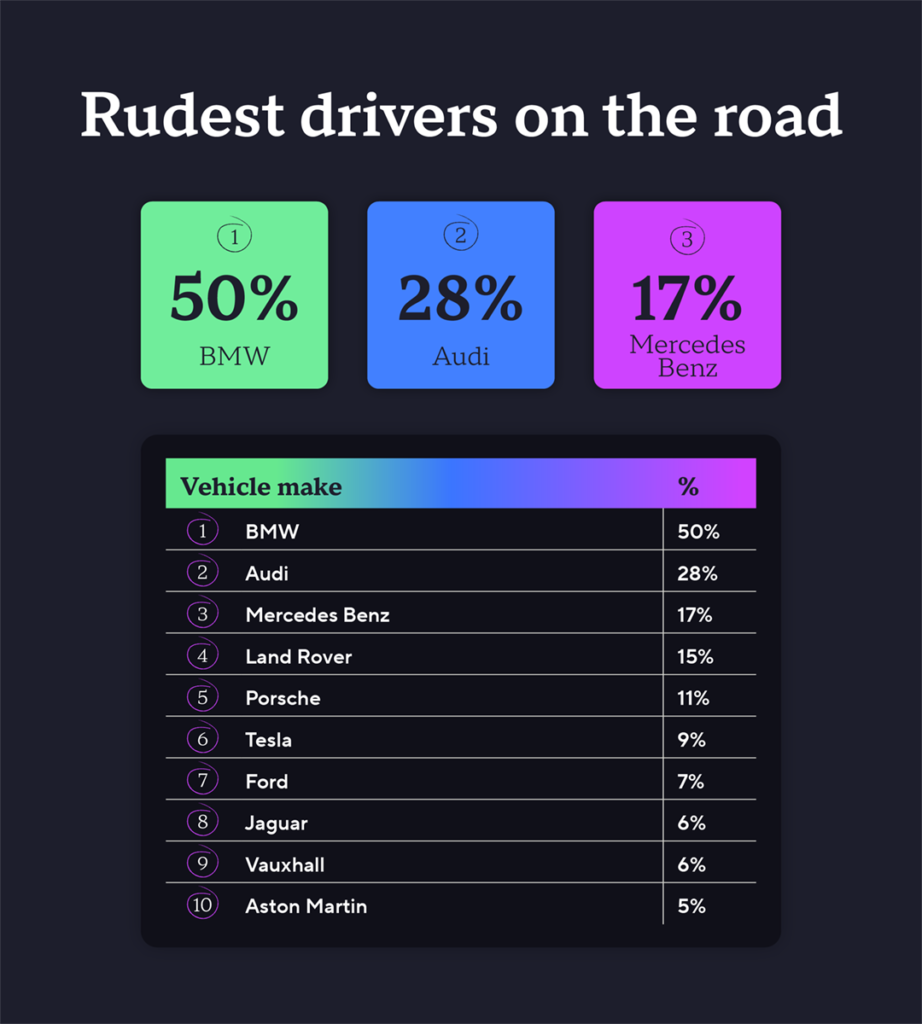 ---
With four in ten (40 percent) saying they regularly experience rude behaviour on the country's roads – an average of six times a week – but more than half (58 percent) claiming to be a polite driver, there seems to be a disconnect between our own attitudes and behaviours.
With two thirds (61 percent) admitting they have acted aggressively behind the wheel themselves, an average of six times a week, and three quarters (76 percent) actually saying they regretted driving badly immediately.
Whilst there does seem to be a clear consensus on BMW drivers being the rudest out there, more than half (58 percent) agree that the brand of car doesn't matter and that it's the person behind the wheel that is at fault. So maybe it isn't the BMW that makes the driver rude, and they were just rude all along…
"We can't solve all the problems on the road," said Andy Moody, Founder and Managing Director of Go Shorty, "but, if you want to share the driving or need to borrow a vehicle, we can make it easy – in as little as 90 seconds!
"From looking at our own sales data, we know that there has been a rapid rise in drivers sharing trips in the last 12-months – be that for a break from the road themselves or a break from Britain's BMW drivers, clearly there is a need for more than just the 'standard' annual policy.
Sadly, our powers cannot make the UKs rudest drivers more considerate on the road, but we can help save you money with more efficient insurance options. Whether you're borrowing a van to move house, off on a staycation with the family, a learner wanting a few weeks to practise in a family member's vehicle, or a group of friends looking to share the load of driving in the same vehicle over the weekend, GoShorty can cover you for as little as 1 hour up to 28 days!"
Three quarters (70 percent) think that driving is more stressful now than five years ago, with one in three (30 percent) wishing that driving was more fun. Whilst an increase in cars on the road being partially responsible for the rising stress of driving, there's no denying that rude drivers displaying aggressive behaviours also significantly contribute to this phenomenon…
In fact, a third (29 percent) say they take regular breaks from driving and ask a family member or friends to ferry them around, something we are on hand with to provide cover for, in as little as 90 seconds. One in twenty (six percent) have stopped driving completely thanks to the stresses of the road.
According to GoShorty, the use of temporary insurance to borrow a car sees an increase of 25 per cent over the weekend, compared to mid-week, with 39 per cent more people using temporary insurance specifically for 'sharing a long journey' on the weekend compared to midweek.
---
There Are Still Some Polite Drivers On the Roads…
On the other side of the coin, Ford drivers were voted the politest with 21 percent of the vote, followed by Kia (16 percent), Toyota (15 percent), Nissan (15 percent), Volvo (15 percent), and Skoda (15 percent). Mini drivers (14 percent) are also seen as courteous on the roads, along with Vauxhall (13 percent) and Volkswagen (13 percent) owners.
Whether you prefer drivers of German cars, think honking your horn is fine, or do everything you can to avoid driving at busy times – GoShorty's short-term car insurance can be relied upon to make journeys easier. Whether you're taking the wheel for an anxious friend, splitting the trip between a group, or trying out a mate's Mercedes – we've got you covered.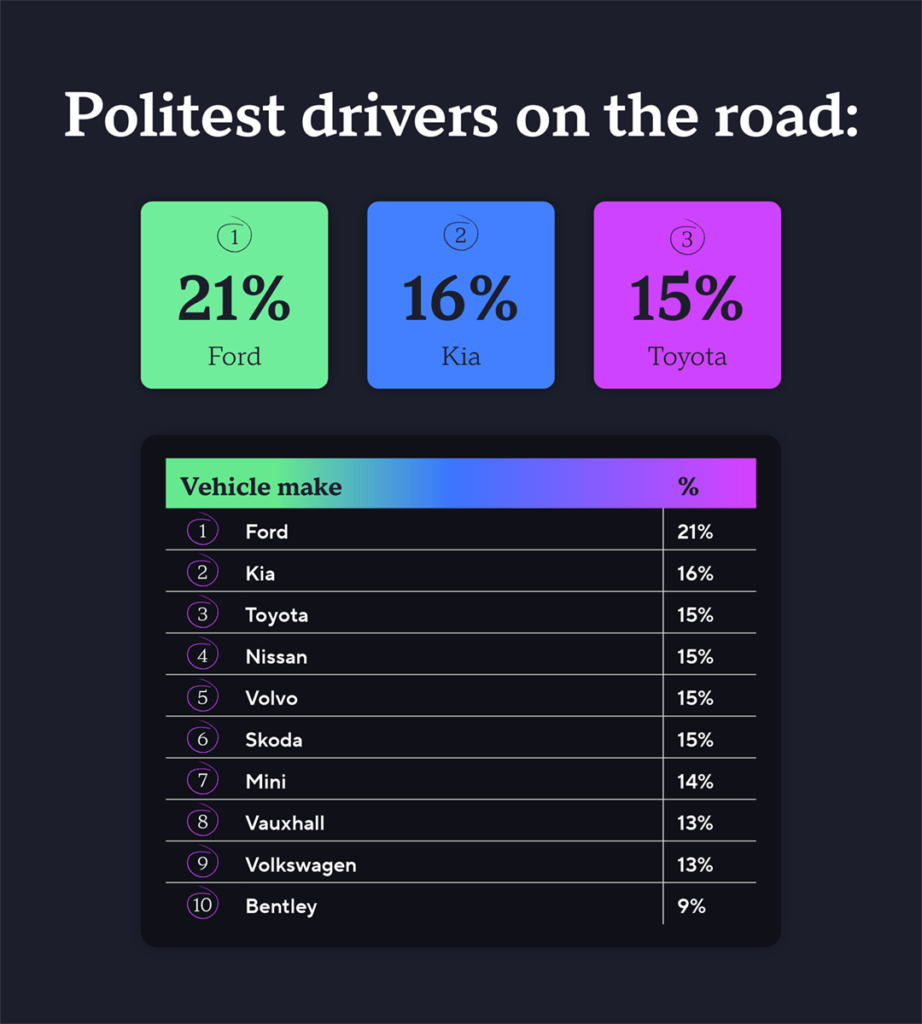 ---
---
Similar articles you might like